{SECTION_MENU}
{LATEST_NEWS}
{DIARY_CALENDAR}
Attendance
At Offmore Primary school, we believe that children need to understand the value of education and the part they play in their own futures. Whilst explaining that sometimes we are all ill and can not come to school, we also give the children ownership of celebrating excellent attendance and being aware of their own place in this. Children in KS2 record their weekly attendance every week in their home/school diaries so they are aware of their of their individual levels as well as the whole school overview.
Aims
For all children to want to attend school to be enthused and excited about the prospect.

For all parents to fully understand the rich and exciting opportunities available at Offmore and to want their children to be part of the Offmore learning experience

To have open and honest discussions where non-attendance is occurring
Objectives
To have clear systems of communication between School and Home, and Home and School

To exceed our target Attendance target of 97%.

To have a whole school ethos that celebrates and rewards excellent attendance.
Monitoring
Attendance is monitored on a weekly basis, and focuses upon those children whose attendance has dropped below 93% and those with very good attendance.
In the event that your child's attendance has fallen below 93%, the school will inform you that this has happened. Our pastoral lead Leah Walch will make contact to discuss how we can support you to improve your child's attendance.
If attendance rates continue to fall, for three consecutive weeks, we will invite you to a meeting, with your child, to establish a support plan to improve attendance.
Rewards for Attendance
To reward children with very high attendance we present certificates for
The class with the highest average attendance in KS1 wins ' Barry the attendance bear' for the week

The class with the highest attendance in KS2 wins an extra playtime session for that week.

Half termly lanyards are issued for 100% attendance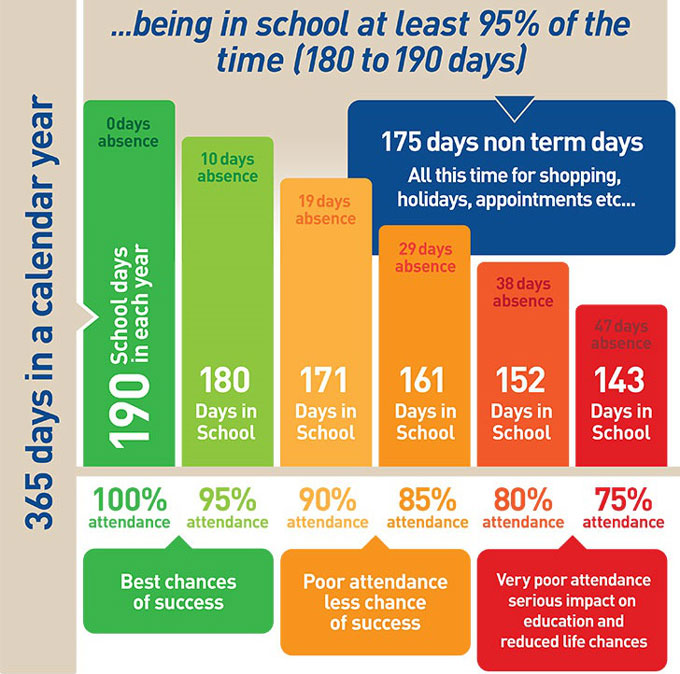 Related Policies