Friends of Offmore
At Offmore we are always looking for support to make our school the best it can be. We like to create relationships with companies, within the community to support our school. This can be via donations or projects. Please see below for how you can help us at Offmore and those companies that have already helped.
If you are a local company we would love to be able to work together and in return can support you in advertising your business through our website.
If you feel you can help in any way, please contact: at296@offmore.worcs.sch.uk
Upcoming projects
We are currently developing our pond and forest area. If you feel you have anything that may be suitable, please get in touch with the school.
With thanks to...
Kidderminster Morrisons store are our biggest supporter and have helped with Easter, Christmas, Book day, pizzas in holiday club and the most recent sunflower project. They are always willing to help.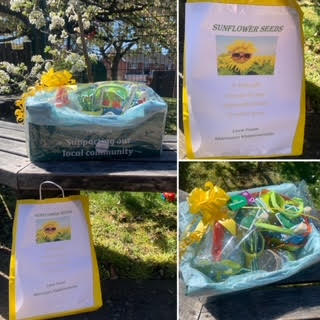 Fancy That in Kidderminster donated 3 beautiful balloon towers and a rainbow helium balloon to welcome the children back after returning from the COVID school closure.

Hodgehill kindly let our Ducklings children visit the farm shop and allowed them to choose their own fruit or vegetable to take home. They have also donated compost to help us grow plants and seeds.
RF Aimes Merchants, in Kidderminster, kindly donated bags of gravel for the Early Years outdoor area. We really appreciate their kindness.
Fabric Direct based in Kidderminster, who kindly gave the school 10% discount when purchasing PVC fabric to cover KS1 benches. Thank you for helping us.
A big thank you for helping us with bags of gravel which we have used in our early years construction area.
Forward Products based in Bromsgrove kindly donated a laminator to school.
B&Q in Kidderminster have donated paint which we have used to make our school a bright and happy place to be.
Kidderminster Rotary Club presented us with a cheque for £250 and some children's books to help re-stock our library thank you from our children who love spending time in their fabulous library.