Home Learning help
Due to school closure for the foreseeable future we are aware that you may need further support to go along with the packs the class teacher has sent home with your child/children. Please see more information below.
PLEASE FOLLOW THE LINK BELOW FOR LATEST ADVICE FOR SCHOOL AND PARENTS. IT'S ALSO ON THE SCHOOL WEBSITE UNDER 'NEWS' - 'COVID 19' IN MORE DETAIL.
https://www.gov.uk/government/publications/closure-of-educational-settings-information-for-parents-and-carers
Is your child returning to school? Worcestershire Children First have released this video to share with your child as a guide to going back.
Government Advice regarding home learning.
Updated guidance for parents and carers on the closure of educational settings.
https://www.gov.uk/government/publications/closure-of-educational-settings-information-for-parents-and-carers
Home Learning Suggested Timetable
First News- YOUR WEEKLY NEWSPAPER
First News is an independent and trusted news source, loved by young people and recommended by teachers.
Useful websites categorised by Subject Area
Your wellbeing!
Dr Ranj from Cbeebies explains Coronavirus: Click on the picture below to watch the episode.
Wellbeing advice for all those supporting children and young people. https://www.annafreud.org/what-we-do/anna-freud-learning-network/coronavirus/
Advice on dealing with school closures and talking to children about COVID-19. https://www.bps.org.uk/news-and-blogs
https://www.mind.org.uk/information-support/coronavirus-and-your-wellbeing
Keeping-Calm-and-Providing-Supportive-Parenting-During-the-Coronavirus.pdf
Get Worcestershire signing- A new sign every Wednesday
ONLINE FAMILY LEARNING COURSES
A variety of online family learning courses are available to join free including '5 days of family fun online', 'Book and Cook' and 'High School family crafts'– to book your place visit https://www.learninworcestershire.ac.uk/book-a-course
Literacy:
https://www.youtube.com/channel/UCP_FbjYUP_UtldV2K_-niWw/featured- Reception and Year 1 phonics lessons uploaded every week.
https://www.oxfordowl.co.uk/for-home
http://www.letters-and-sounds.com/
https://www.phonicsplay.co.uk/ Username: march20 Password: home
https://www.cricksoft.com/uk/clicker/clicker-at-home/installation Serial Number once downloaded: 8E1KK 6HL23 JFKX8 VPLR3
https://www.audible.co.uk/?source_code=M2M30DFT1BkSH090814001F&msclkid=54d863f772d610b2ca433d8964f899c0 -Free 30 day trial of audio books
Site with recommended booklists and family activities in the 'Home Time' section. https://www.booktrust.org.uk/books-and-reading/bookfinder/
Early Years to KS2 downloadable resource packs https://classroomsecrets.co.uk/free-home-learning-packs/
Downloadable resource packs with tasks based on video clips on YouTube. https://www.literacyshedplus.com/en-gb/browse/free-resources/key-stage-2-activity-packs
A new image is published each day as a basis for creative writing. Story starters, questions and drawing ideas are provided. https://www.pobble365.com/
Summer Reading Challenge – An annual reading challenge for children aged 4-11 years. This year's challenge is being delivered online, launching nationally on Friday 5th June. The theme is Silly Squad and will be focusing on the enjoyment of reading for pleasure; children will be encouraged to read anything that makes them happy. They can read books available at home or via the library service – we will have a special 'Silly Squad' collection of books available to download from our digital library for children to read or listen on their digital devices. More information will be distributed to schools later this week but full details can be accessed from the national website from Friday 5th June 2020 - https://summerreadingchallenge.org.uk/
General/Multiple Subjects
https://www.bbc.co.uk/bitesize/dailylessons - You'll find daily lessons for homeschooling in Maths and English for every year group, as well as regular lessons in Science, History, Geography and more. UPDATED EVERY WEEK
www.discoveryeducation.co.uk Username student31724 Password offmore
https://www.purplemash.com/login/
https://plprimarystars.com/for-families/play-game Spelling and Maths football games
https://www.twinkl.co.uk/resources/parents
https://www.bbc.co.uk/bitesize/primary
learning/primary?fbclid=IwAR0lYx3zcxMr7CKJWDgwYiU1CU9jIjG1jMkIdCi4Qtfoy1oROY8Ush67I3E
https://www.bbc.co.uk/cbeebies/radio
http://naturedetectives.woodlandtrust.org.uk/naturedetectives
https://www.bbc.co.uk/news/technology-52017873 Minecraft offering free lessons until June
Geography/History
Why not enjoy some of the virtual tours and online activities some places are offering. See some examples below.
Birmingham Museum & Art Gallery: https://www.birminghammuseums.org.uk/bmag
Jorvik Viking Centre: https://www.jorvikvikingcentre.co.uk/discover-from-home/
Tower of London: https://www.youvisit.com/tour/meadk
Natural History Museum: https://www.nhm.ac.uk
Stonehenge: https://www.english-heritage.org.uk/visit/places/stonehenge/history-and-stories/stonehenge360/
The Roman Baths: https://www.romanbaths.co.uk/walkthrough
London Zoo: https://www.zsl.org/zsl-london-zoo/virtual-london-zoo
Edinburgh Zoo: https://www.edinburghzoo.org.uk/webcams/panda-cam/#pandacam
Buckingham Palace: https://www.royal.uk/virtual-tours-buckingham-palace
Science, Technology, Engineering and Maths (STEM)
STEM clubs via Worcestershire County Libraries:
We continue to encourage interest in Science, Technology, Engineering, Arts and Maths (STEAM) across our digital platform. Clubs now operating online are:
Lego Club – A new weekly Lego challenge is set every Tuesday, suitable for children aged 3-11 years . Join the Library Lego club Facebook group.
Coding & Computing Club – A fortnightly coding and computing club for 7-17 year olds and their families, exploring coding for all levels from beginner to advanced, utilising a variety of software and programming languages. Join the virtual coding and computing club Facebook group
Monthly Minecraft Challenges - Access monthly Minecraft challenges in our exclusive library Minecraft worlds! Suitable for all ages and abilities. A new challenge is set at the beginning of each calendar month. Join the monthly minecraft challenge Facebook club to learn more Please note – users will need an existing Minecraft account to access and the game does have an online chat facility so parental guidance is advised for young users.
Art/DT
Family Learning are putting on 30 minute courses. Below you will find what is involved each week and the link to book on and access.
Book and Cook Family Activity Week Online starts Monday 11th May – Friday 15th May Motivational Monday - Making a rainbow from any ingredients you have at home from tomatoes to cherries to peas! Ring an isolated relative and read them a book and make a rainbow in your house or garden. Tech Tuesday - Harry Potter chocolate melting (using up your left over Easter Eggs) and some Harry Potter activities. Work it out Wednesday - Making Pizza (bread roll, slice of bread, pizza base and using up beans, tins of tomatoes, sweetcorn, etc) and then writing your own Pizza cook book. Theory Thursday - Where's Wally book and making your own biscuits (flour, sugar and butter) and anything red and white to decorate them. Hiding your Wally Biscuits around the house for family to find. Feedback Friday - Making a book of all the different cooking things you tried this week to take back into school to show your teacher and class.
https://capublic.worcestershire.gov.uk/coursebookingpublic/CourseBooking.aspx?Login=False&CourseId=5630&CustomerRequestGUID=
5 days of Family Fun online starts Monday 18th May – Friday 22nd May Motivation Monday - Flower Pressing and card making using flowers from your garden or local walk and books as the press and turning them into cards or pictures to show or post to people. Tech Tuesday - Sock puppets from old socks at home and anything you can find at home to decorate. Working it out Wednesday - garden pots using recycled drink bottles and yoghurt pots and painting with water in your garden. Theory Thursday - using cereal, pasta or dried fruit etc to thread into necklaces or jewellery. Feedback Friday - Stick food using cocktail sticks or kebab sticks or similar make your own kebabs from fruit and veg in your home or any sweets you can find.
https://capublic.worcestershire.gov.uk/coursebookingpublic/CourseBooking.aspx?Login=False&CourseId=5631&CustomerRequestGUID=
PE
PE sports challenges- PRIZES TO BE WON!! Take a look at the letter below explaining how it works and then follow the weeks activities.
Information for Stay in Work Out
This weeks activities for Pre School, KS1 and KS2: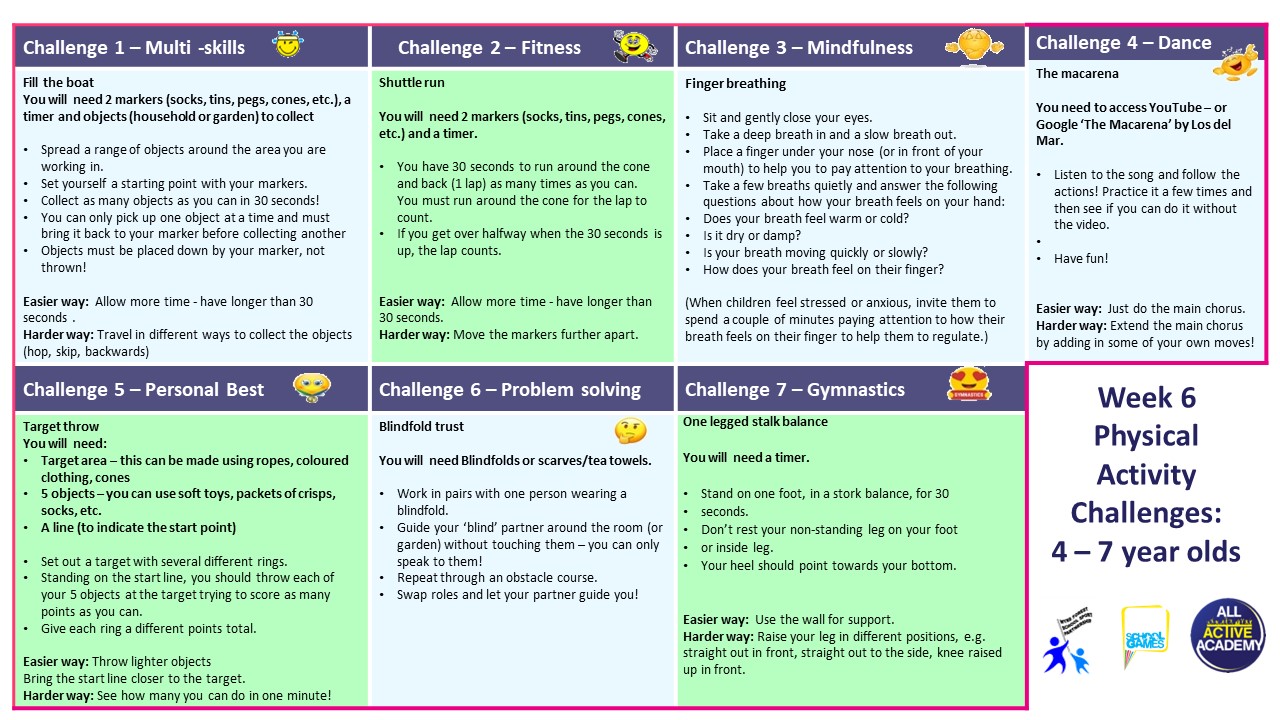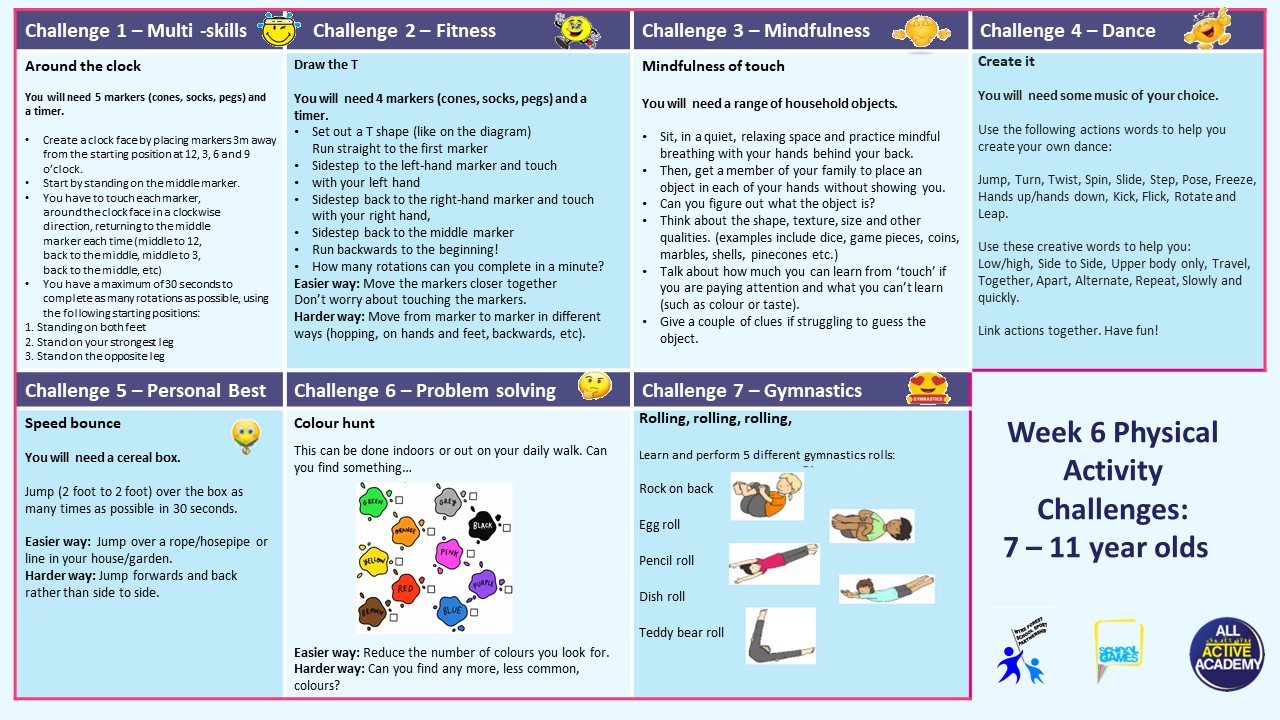 Get active with Joe Wicks- every weekday at 9am for 30 minutes https://www.youtube.com/watch?v=Rz0go1pTda8
Videos that get younger children up and dancing with CBeebies presenters. https://www.bbc.co.uk/programmes/b006mvsc
10-minute videos based on Disney films that count towards a child's 60 active minutes per day. https://www.nhs.uk/10-minute-shake-up/shake-ups
Videos which help children move while they learn. They support curriculum subjects, including maths and English. https://www.bbc.co.uk/teach/supermovers
Videos delivered by teachers focussing on the PE curriculum which are accessible on YouTube. https://www.afpe.org.uk/physical-education/thisispe-supporting-parents-to-teach-pe-at-home/
Maths
Presentations and downloadable workbooks which are easy to use for parents. New material is being released each week. https://whiterosemaths.com/
Downloadable resource packs with teacher guidance. A week's worth of resources is provided for each year group. https://www.hamilton-trust.org.uk/blog/learning-home-packs/
Downloadable guidance and resource packs for parents and pupils. https://www.mathematicsmastery.org/free-resources
A range of activities. Some are interactive and some are to be completed offline. Activities are categorised by age range. https://nrich.maths.org/
Videos for numeracy development designed for children aged 0 to 6. There are fun activities that can be applied to everyday life and play. https://www.bbc.co.uk/cbeebies/grownups/help-your-child-with-maths
A range of interactive maths games categorised by age group. https://www.topmarks.co.uk/maths-games
Languages
https://www.languageangels.com/schools/index.php/intractive-games User: offmore Pass: bonjour
SEND (apps must be downloaded)
A visual instruction app, including flash cards and picture-choosing games, for children with autism and special needs. http://www.brainparade.com/products/see-touch-learn-free/
A collection of games and resources designed for a range of educational needs and stages. It includes provision for school closure. https://www.helpkidzlearn.com/
A range of apps are available for pupils with Profound and Multiple Learning Difficulties (PMLD) or Severe Learning Difficulties (SLD). All are interactive and many do not require significant coordination abilities. https://www.sensoryapphouse.com/
An all-in-one app created to support people with communication and learning difficulties. For verbal and non-verbal learners. https://www.visuals2go.com/
On the Sign Along website they will be adding FREE resources to this page to help you with your Signalong learning. https://signalong.org.uk/free-resources
25 non- screen activities to do with your child:
Advice on Corona Virus for people in Education:
Coronavirus advice for educational settings poster
Where to find the latest information: